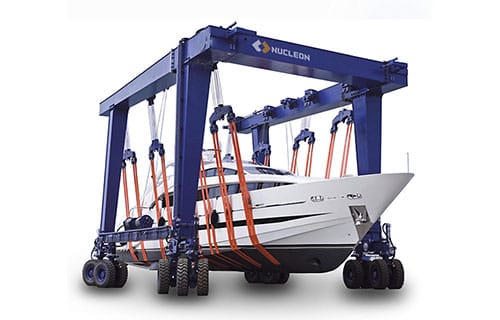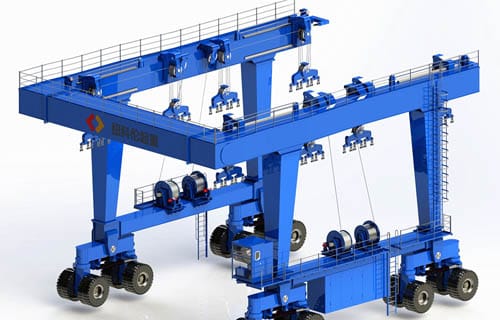 Gantry Crane for Yacht
Nucleon Mobile Boat Hoist is apply in water sport meetings, aquatic clubs, voyages and so on. This crane is usually used to transporting boats or yachets into or out of shoreside water channel to maintain or launch, cranes composed by hoisting mechanism, steering mechanism, wheelsets, electrical control system and hydraulic transmission system. It's adopt structure form is open box shape and able to transport boats that are higher than the crane itself.
The Boat Hoist Crane includes the following items: main structure, traveling wheel block, hoisting mechanism, steering mechanism, hydraulic transmission system, electric control system, the main structure for the "U"type , it can transfer the boat which the height surpass its height.
Тel: +86-13607652609
.
Description
Our crane has different types working class, such as light medium, and heavy Cranes, including A1 to A8 levels. According to your business needs, we can customize 0.5 tons to 1000 tons cranes, with maximum span of 196 meters. Our products are found in all sectors, with excellent craftsmanship and technical team. Crane we produce in various industries have been widely used.
According to different requirements of our customers, the Boat Hoist Crane can handling different tons boat or yacht (10T-800T) from the shore side, it can be used for the maintenance on the shore side or can put the new boat inside the water. It adopts the soft and firm belt to lift the boat, yacht; it will never hurt the surface. It also can put the boat in sequence quickly with small gap between each two boat.
Safety is the most important issue for crane. To ensure the safety, the following safety devices are equipped with NUCLEON cranes
1.Overload protection in the event of overload, the hoist unit switches off and only the lowering motion is possible
2. Long and cross travel limited by means of preliminary and final limit switches or Wireless anti-collision device
3. Anti-falling protection for the Three-in-One electric motor of trolley and crane
4. All movements can be switched off by actuating the emergency-off switch at the control station
5. Long time bearing polyurethane materials buffer fixed to prevent over traveling
6. Safety hook latch used for avoiding the lifted material out off from the hook
7. Audible and visual alarm device to inform the person stay near by the travelling crane.
8. Rain Cover for lifting mechanism of outdoor cranes, electric cabinet and driving mechanism
9. Protective earth conductor is fitted as standard
10.Voltage lower protection system
11.Current overload protection system
Specification
1. Electrohydraulic transmission system of the heavy duty ship lifting gantry crane is adopted in hoisting and traveling parts and features small volumn, light weight, compact structure, smooth running, quick response, small inertia, easy operation and automation. The crane is able to high-speed start, brake and turn.
2. Multipoint hoist disperses forces acting on the hull without strongly pressuring. Movable hoisting points and dynamic balance are suitable for boats of different types and can automatically adjust the deflection angle for adaption.
3. Radar anti-collision method is safe and effective.
4. Adoption of load sensitive control technology enables the crane to produce output as actual demand to prevent energy
5. Soft but sturdy hoisting belts make no damage on hulls surface.
100t~300t Boat Lifting Hoist/Crane Main Parameters

Rated capacity

t

100

150

200

300

Grounding specific pressure

kg/cm2

11.5

11

11.5

6.5

Grade ability

m/min

2%

4%

4%

4%

Lifting speed m/min

Full load

0~2

0~1

0~2

0~1

Non-load

0~5

0~4

0~3

0~3

Running speed m/min

Full load

0~20

0~20

0~20

0~20

Non-load

0~35

0~35

0~35

0~35

Working ambient tempt.

℃

Below 20℃~ above 50℃