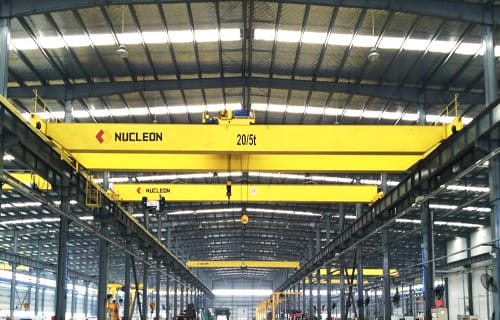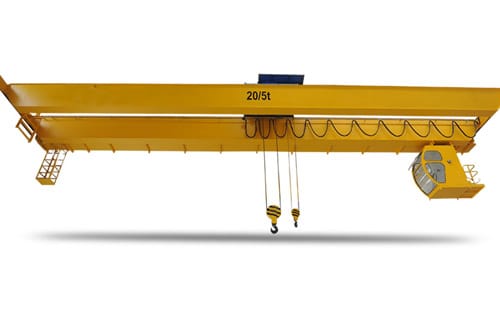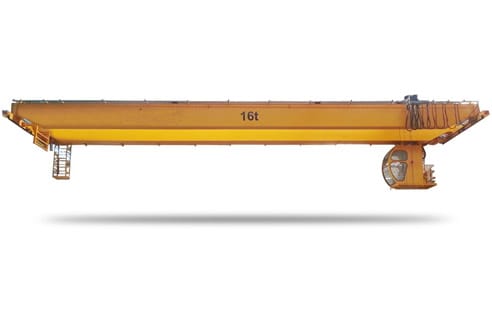 Double Girder Overhead Crane
The crane of a classification , has a commonly used lifting load of 3--250 ton, so that is suitable to work in factory, warehouses and freight yard where the ambient temperature is -10'C~40'C and the relative humidity is not more than 85%. It is prohibited to work in the environment with inflammable , explosive and corrosive gas.
Тel: +86-13607652609
.
Description
u Brief Introduction
QD type double girder bridge crane, its trolley is bigger and stronger than LH type , reducer and brake separately. And this is the most important factor for working 24*7 hours per day.And this kind of heavy duty crane ,it is widely used in plants, warehouses, materials stocks to lift goods or materials. it is prohibited to used the equipment in the combustible,explosive or corrosives environment.
QD type crane mainly consists of two strong bridge beams,crane traveling mechanism, electric winch trolley and electric system,and could be classified into several working duties,e.g. A5,A6,A7,according to the working frequency and pure working time.
u Advantages:
1) Reasonable structure
2) Favorable performance
3) Smooth starting and stopping
4) Safe and reliable traveling
5) Low noise, commodious cabin and good view
6) Convenient maintenance, excellent exchangeability for parts and components
7) Saves electricity
Specification
Mechanism

Item

Lift Mechanism

Mechanism

Item

Travel Mechanism

Main Lift Hook

Aux Lift Hook

Trolley

Crane

Lift Capacity

t

10

3.5

Gauge

mm

2000

20000

Lift Speed

m/min

10.4

19.7

Travel Speed

m/min

43.8

116.8

Work Duty

M6

M5

Work Group

M5

M6

Max Lift Height

m

16

18

Track

mm

2300

4050

Power

380V 3AC 60HZ

Wire Rope

Work Tension

KN

17.4

8.26

Buffer Stroke

mm

60

140

Wheel Diameter

mm

Φ400x1500

Φ300x1500

Rail Type

24kg/m

43kg/m

Pulley Diameter

mm

Max Wheel Load

KN

35.25

135

Reducer

Type

ZQ500-3CA

ZQ400-3CA

Reducer

Type

ZSC-400-1-1

ZQ350-1/2

Speed Ratio

40.17

23.34

Speed Ratio

22.4

12.64

Motor

Type

YZR 200L-6

YZR 160L-6

Motor

Type

YZR132M1-6

YZR160M2-6

Power

kw

22

13

Power

KW

2.5

2x7.5

Rotation Speed

r/min

964

942

Rotation Speed

892

940

Brake

Type

YWZ -300/45

YWZ 200/25

Brake

Type

YWZ-100/18

YWZ-200/25

Brake Torture

N.m

2X630

200

Brake

Torture

Nm

40

2x200

Pusher Type

YT -45Z/5

YT1-25ZB/4

Pusher Type

YT1-18Z/2

YT1-25ZB/4

Limit Switch

DZX multifunctional switch of LX10-31

Limit Switch

LX10-11

LX10-11