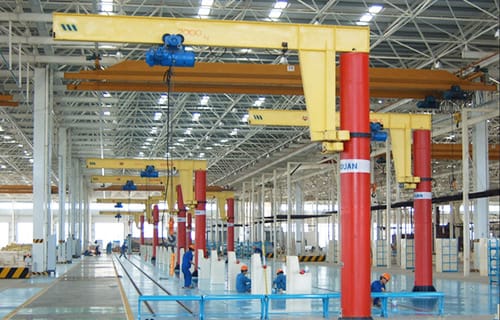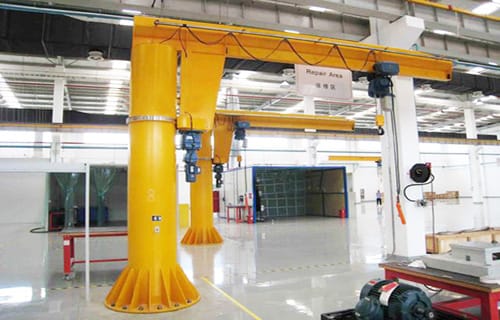 Free Standing Jib Cranes
1. Fitting & fabrication workstations
2. Building Maintenance
3.Plant room maintenance
4.Marine loading and maintenance
5. Machine centre loading and maintenance to name a few applications
Тel: +86-13607652609
.
Description
*
Jib Crane is widely used to control or position a load in areas that are generally inaccessible to other material handling equipment. They are designed to provide reliable long-life performance with minimum maintenance. This jib crane provides 360-degree rotation our jib include taglines, festoon systems, collector ring assemblies and motorized rotation.
*
Free standing Jib Cranes
are directly fixed on the floor without any support to keep it upright. To maintain it's stability and not topple over it you fix it to a foundation of 3 to 5 feet deep and up to 4 to 10 feet square foundation base. The foundation depends on the load and reach. Advantage of this type of crane is it doesn't need a support wall or structure and provides optimal range of span and control compare to wall mounted cranes and other types of Jib cranes. The picture here shows a 2 ton free standing jib crane used in a yard environment.
1. Fitting & fabrication workstations
2. Building Maintenance
3.Plant room maintenance
4.Marine loading and maintenance
5. Machine centre loading and maintenance to name a few applications
Advantages
The versatility of a Nante Jib Crane is unmatched. Our Jib Cranes offer an extensive range of installation options and capacities, with the power to create the best material handling solution with maximum space utilization. A Jib Crane can be mounted to your facility floor, foundation, column, pillar or wall to accommodate any space constraints or work plans.
Design features
1. Precision upper pivot roller bearing
2. Easy set, self adjusting slew brake
3. Range of models available from full manual to fully powered operation
4.Wall, column or freestanding mounts available
5. Peace of mind knowing that your crane is designed by qualified engineers and manufactured by qualified boilermakers, electricians and fitters.
6. Medium / heavy weight design
7. Sturdy steel structure with low solid-web jib for high usable crane hook height.
8. Safety anchoring with sturdy, ribbed based and a large number of anchor bolts.
9. Rated slewing range infinite X 360 degree.
10. Scope of Supply includes anchor bolts, template and plan for foundation design.
11. For operation in completely enclosed buildings.
12. LIMIT SWITCHES: To prevent over hoisting & over lowering of hook.
Specification