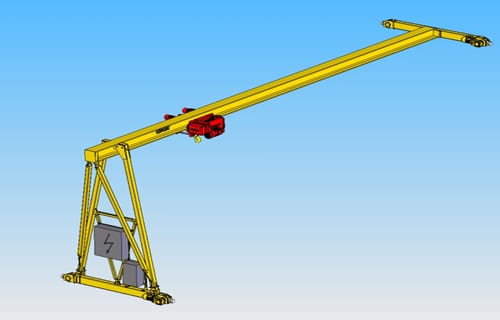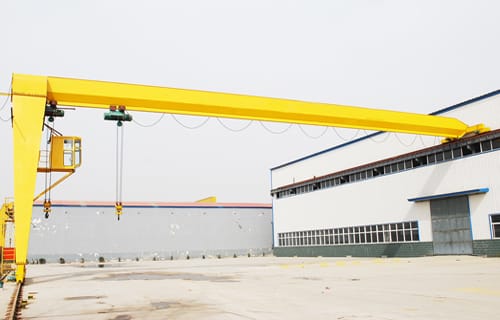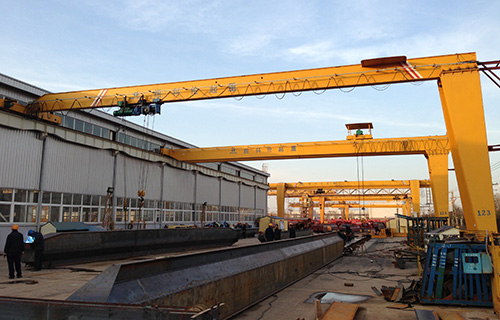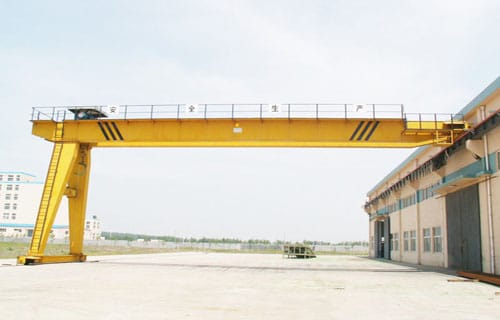 Semi-Gantry Crane
Optional features of Semi gantry Crane Price
1. Waterproof
2. Soft starter
3. Remote control
4. Wireless Radio Remote control
5. Variable speed through VVF Drive
Parts of Top Quality Semi gantry Crane Price
Тel: +86-13607652609
.
Description
Introduction of Semi-gantry Crane Price
Top quality semi gantry crane (BMH) is a kind of light type crane, commonly used in modern production. In workshops where part utilization of shop bay is required (as in a tool room attached to a press shop), a Semi-Goliath/Gantry Crane is used. In such a configuration, one end-carriage of the crane will travel on the regular gantry rail while the opposite end-carriage will travel on a rail mounted typically on the ground or at a lower elevation. Compared with the electric single-girder gantry crane, it can save more cost and space.
Advantages of Semi gantry Crane Price
Safety
Low dead weight
Less waste of material
Compact dimensions
Reliable performance
Easy to operate and maintain
Low cost and so on
Optional features of Semi gantry Crane Price
1. Waterproof
2. Soft starter
3. Remote control
4. Wireless Radio Remote control
5. Variable speed through VVF Drive
Parts of Top Quality Semi gantry Crane Price
Motors:
The motors are used special crane duty suitable for frequent starting , reversing & braking in accordance with ISO 9001:2000 ISO 14001:2004.Motors are totally enclosed in dust proof construction foot / flange mounted TESC / TEFC , Sq. cage motors with integrated safety brakes, insulation class F, IP54 protection for hoisting, CT & LT motions.
Brakes:
Independent Hydraulic Brake makes the crane safer and easier to control.
Painting:
Two coats of primer before assembly & two coats of synthetic enamel after testing.
Color:
according to your demand.
Average thickness:
about 100 microns.
Gear Box:
The entire gear boxes are made of accurate hob cut helical / spur gears & pinions having hardness 250 to 350 BHN made from carbon alloy steel. All gears & pinions running on antifriction type ball / roller bearings in totally are enclosed oil bath giving constant splash lubrication. The helical / Spur gear designed for adequate strength and optimum wear resistance for smooth operation & long life.
Wheels:
The wheels of crane crab, main beam and end carriage are produced in our special Vacuum casting workshop (No sand inclusion technique) which makes our wheels more elastic and outer surface hard-wearing and durable.
Electrical Panel:
Modular design, ease to install and maintain, reliable operation, fuses less circuitry, ducted wiring and compact terminals. Motor overload protection to prevent overloading.
Limit Switch:
Safety limit switches for stoppers will be provided to prevent over traveling in all motions.
Specification
Semi-gantry Crane Technical Parameter

Capactiy

(t)

Span

(m)

Lifting

Height (m)

Work

Duty

Lifting Speed
(m/min)

Crab Travelling

Speed (m/min)

Trolley Travelling

Speed (m/min)

Power

(kw)

Rail

2

10~20

6

A4

8

20

20

380V
50HZ

24kg/m

3

10~20

6

8

20

20

5

10~20

6

8

20

20

38kg/m

10

10~20

6

7

20

30